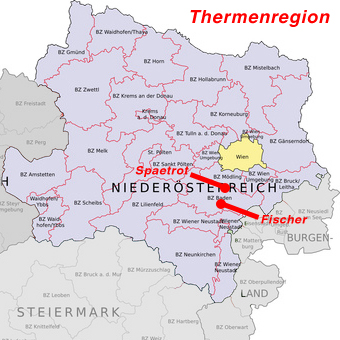 Since 1662, the Christian Fischer Wine Estate has been operating out of the family's ancestral home, one of the oldest in the village of Sooβ, Austria. At the beginning of the 1980's, after completing an intensive vinter education program, Christian Fischer joined his father Engelbert to carry on the family tradition. Since 1983 he has been solely responsible for the wines produced at the Fischer Estate and now manages the entire estate.
Since the very beginning, it's been clear to Christian Fischer that the craft of making red wines is his passion. His aim is to produce full-bodied, complex wines with a harmonious tannin structure and good maturing potential. For models, Fischer looked to the great wine chateaux of the French Bordeaux.
What really matters in wine production is location.
The Christian Fischer Estate vineyards face southeast on the gentle slopes of the "Sooβer Lingkogel," a hill in the Vienna Woods. The soil consists mainly of limestone covered by a layer of brown fertile soil, which provides the best conditions for growing excellent grapes. A healthy mix of indigenous and international vines suited to the local climate is the basis from which regional red wines of exceptional quality are produced.
In addition to the sale of wine through restaurants, the wine trade, and select wine bars, the "Heurigen" (wine tavern) run by the family remains the headquarters for the sale of wines. And for people who love wine, a visit to the Fischer's serves up pleasure twofold: In addition to a sumptuous array of local culinary delicacies, top wines are available by the glass as well as by the bottle, so customers can sample before buying.
Wines
Gradenthal
90 Points – Wine & Spirits, May 2009
Gold Medal – Austrian Wine Challenge, 2006
St. Laurent
Best of Tasting – Wall Street Journal, February 2008