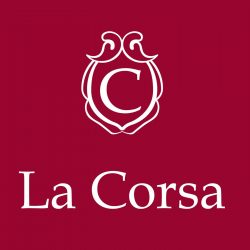 La Corsa site is located on the gentle slopes of Tuscany's Maremma, within the impressive triangle of the Golden Valley, whose apex is overlooking Ansedonia's bay, close to Capalbio.
The farm was spotted and acquired years ago by Marco Bassetti, television entrepreneur with a grand passion for food and wine.
In 2005 the vineyard project La Corsa was started, conducted with the supervision of renowned oenologist Vittorio Fiore and Barbara Tamburini, with the aim of producing wines with great structure and elegance from vineyards of Sangiovese, Petit Verdot, Teroldego, and Vermentino.
La Corsa cultivates its grapes in an area where archaeological evidence demonstrates that production of wine went on more than two thousand years ago. Ancient Romans produced wine industrially in this area, taking advantage of the peculiarities of this unique land. The reputation of these wines, even back than considered of high quality, quickly spread across the Mediterranean Sea. It even arrived as far as southern France, the wine having been transported from the port of ancient city of Cosa, foundend in 241 B.C.
After careful organoleptic tests on the land, we can see why twentythree hundred years ago these lands were chosen by ancient Romans to produce such unique wines.