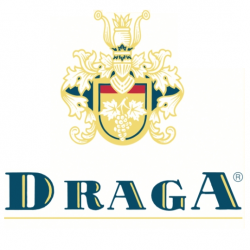 Draga and Miklus' vineyard extends onto an area of nine hectares, divided into two areas:
– Draga, situated in the flourishing Collio hills of San Floriano, which is blessed with sunshine and caressed with mild winds, always produces excellent harvests.
– Breg, also in the San Floriano area, and surrounding the winery, is also covered with sunshine, but is subject to much stronger winds hence this is where the more resistant vines and grapes are found.
The terrain in this area is found in layers of clay and stone, which locally is called "ponca", a fundamental characteristic for growing grapes. The growing method is divided into the "cappuccina" and "guyot" methods, with 4000/6000 stems per hectare, thus allowing to achieve a rather small quantity, such as 6000/7000 Kg. per hectare, with a clear gain on grape quality.
The majority of works and grape picking performed, are performed manually following the traditions and above all due to the steep gradients found on our hills, sometimes over 20%.